Looking for new interior design inspiration for the living room? Discover 15 inspirations that you can easily adopt.
Decorate the walls of the living room with a large painting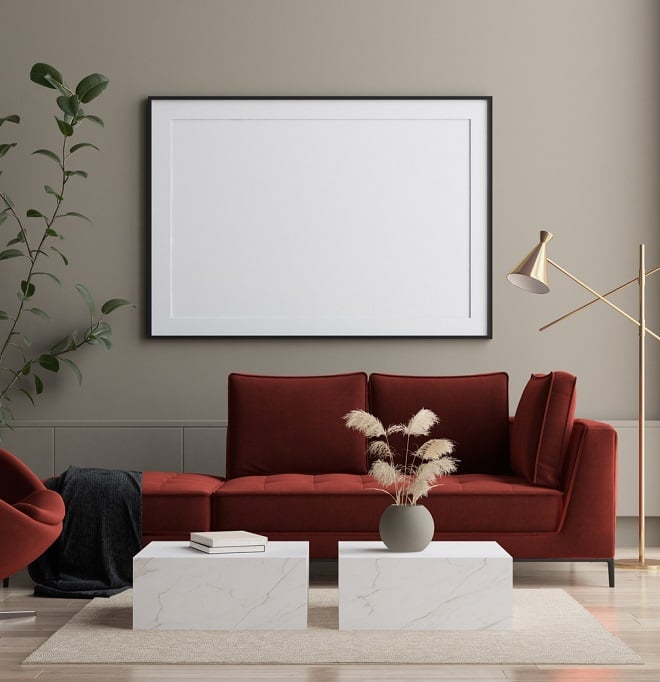 Living room interior decoration with a large painting hanging on the wall and metal accessories Credit: Artjafara
See also
A wall in your living room has remained white for years? It's time to decorate to refresh your interior decoration. Installing a large painting is not the first decorating idea that comes to mind. However, this trick is just as effective as adding colors to a wall during development modern living room. This is ideal if you want a new decor without overdoing it. In addition, a table is easy to install while being aesthetic. It emphasizes the decorative style and the furniture underneath. It will still be necessary to avoid frames that are too imposing, unless you want to make them the center of the living room.
Repaint the ceiling from the center of the house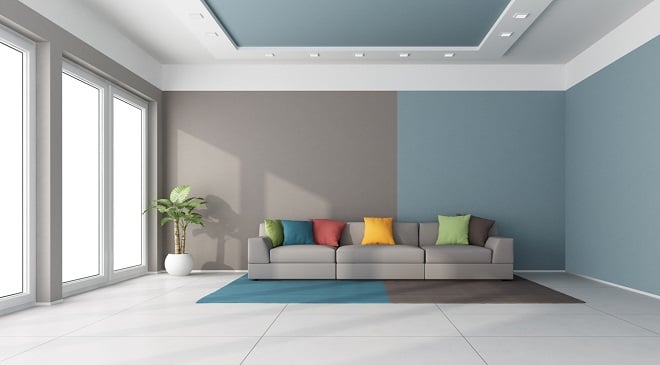 A modern living room with a ceiling tinted with a light color to visually enlarge the space Credit: archideaphoto
The ceiling is often left blank. However, it can be an essential element for the interior decoration from your living room. It visually enlarges the room by giving a sense of depth and height, depending on the color chosen. So you can choose dark, bluish or gray shades if you want a sense of height. Light, beige or pink colors can give an impression of depth while bringing brightness. A solid color with the walls is also possible if you have a cocoon lounge and cozy This idea is one of the recent inspirations suggested by living room decorators.
Interior decoration of living room – dining room: illuminated ceiling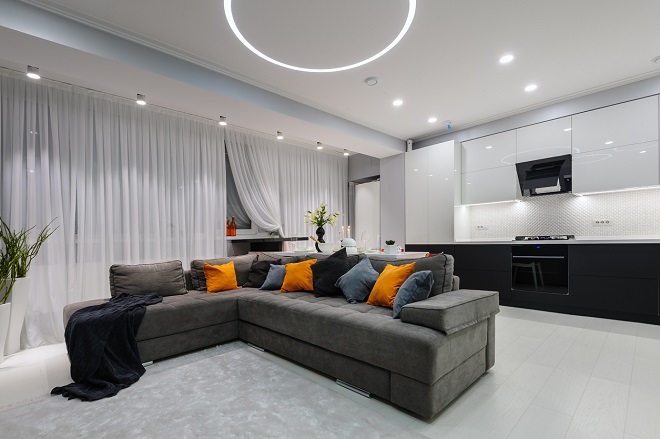 A lounge with a lighted ceiling overlooking an open kitchen and dining area Credit: Shergei Starus
It is not always necessary to add new colors or new objects convert a house. Instead, you can light up your living room ceiling, the centerpiece of your home.
Forget them decoration ideas classics such as the installation of chandeliers. Opt instead for the installation of LED lighting on the ceiling for a modern effect and visually enlarge the space. Your ceiling will definitely catch the eye of your guests while accentuating the wall decoration in place.
Deco tip for bedroom and practical living rooms: install a library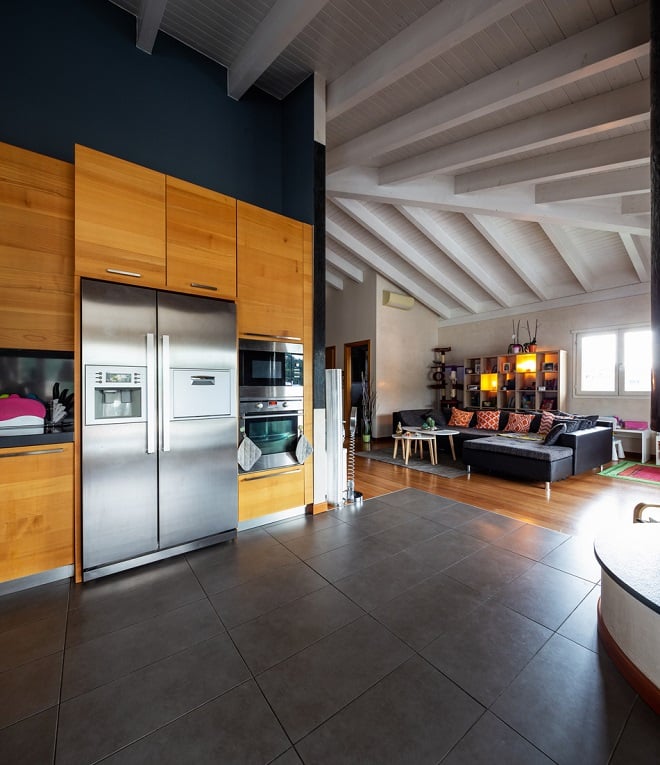 A sitting room with a library and open to a large kitchen Credit: piovesempre
Have you left a wall in your living room bare to highlight its color? Maybe it's time to decorate it. Especially since square meters are expensive and it would be time to exploit every corner of the house. For example, this wall can accommodate a small or large bookshelf depending on the available space. Custom made, this piece of furniture will become the central element of your living room, in addition to being useful. Indeed, this original decoration idea lets you take advantage of new spaces to place decorative objects and store your books.
Match the furniture for a contemporary style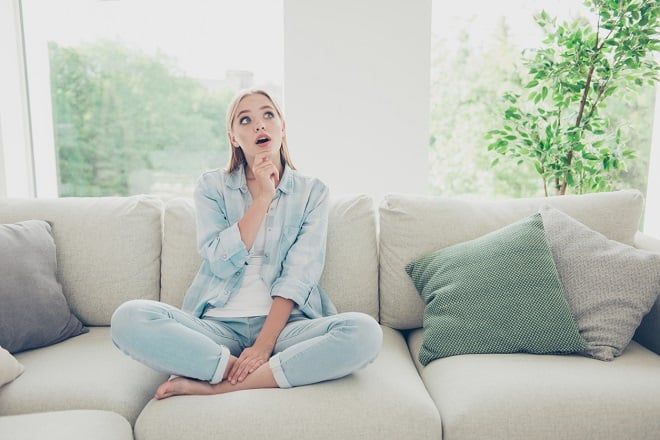 A woman sits on a sofa with mismatched cushions and finds new decorating ideas for her kitchen Credit: Deagreez
In recent years the inappropriate style have become very trendy in living rooms. It can perfectly match yours to bring a contemporary touch. You can start with the furniture that is already present, especially the coffee table. You can combine two models of different colors and sizes to have a modern and original living room. The colors chosen can be combined with those of the cushions to create a harmonious and warm environment. If you prefer to leave your coffee table in place, you can also combine different styles of sofas and armchairs.
Opt for a colored sofa with a modern design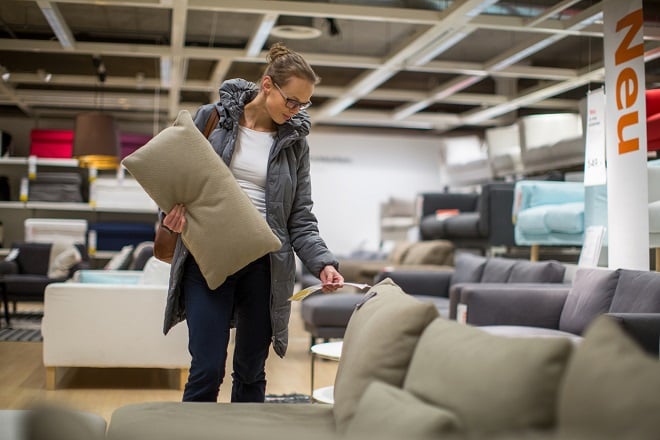 Choice of a corner sofa by a woman Credit: ViktorCap
The sofa is essential in a living room that is also sometimes used as a dining room. It is one of the most visible elements of furniture. Replacing the old sofa with a recent model is an effective way to effectively renovate this room. As for the choice, you can opt for an L-shaped or panoramic corner sofa if the space in the living room allows it. In a small room, a straight model with or without feet is more suitable according to the advice of professionals in this field. You also have the option of placing two straight benches face to face.
Dare the living room armchair in wood or metal in a small space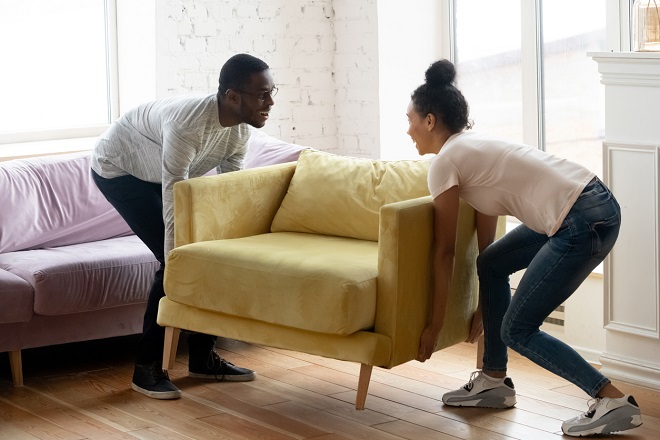 Replacing sofas with an armchair when furnishing a living room in an apartment Credit: fizkes
It is not always easy to renovate a small room. However, there is a living room decoration idea which works every time. It involves replacing the large sofa with a set of armchairs. Installed after the TV or face to face, they bring a specific style to the living room. In addition, many models with different colors add a touch of modernity to this room. Besides having a renovated living room, you get a living space that is nice to look at and live in. For example, the circulation is more fluid in a living room without a sofa, but with armchairs.
Use wallpaper with colors to dress up the ceiling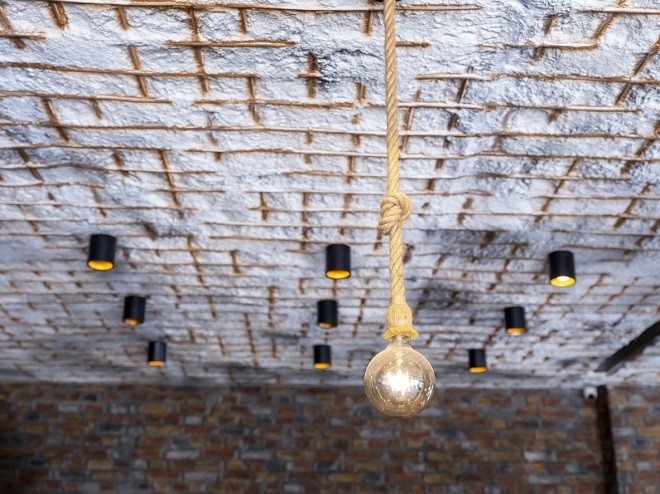 A living room ceiling with a covering reminiscent of a bedroom wall Credit: necati bahadir bermek
In terms of interior makeover, the installation of wallpaper does not necessarily come through the thought of refreshing a living room or a bedroom. However, this decor idea is effective in addition to economical. Especially since there are many models that imitate the texture of wood, stone or plaster. Some vendors even offer paintable wallpaper for personal decoration in a room like the living room. To have a trendy version, floral, botanical and bohemian motifs should be preferred.
Living room layout idea: add exotic plants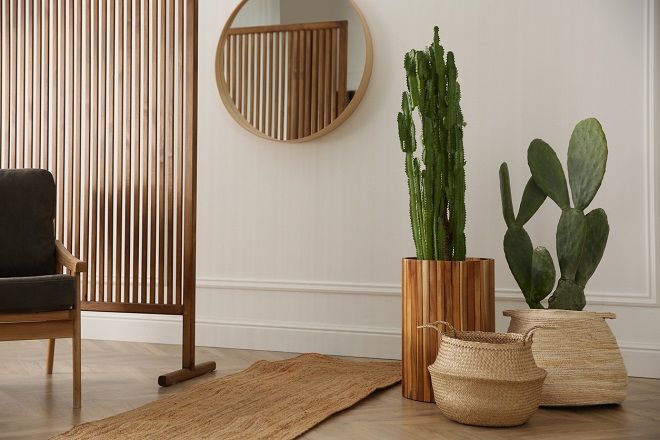 A living room decorated with two types of cacti installed near a modern wall decoration Credit: Liudmila Chernetska
Multiplying plants is a classic idea, but always effective to redecorate a room like the living room. It is not a question of falling into the classicism of flowers, but rather of opting for exotic or original plants. For example, cacti sublimate the living rooms in which they are found. They also catch the eye through the effect of surprise. Your friends will not necessarily expect to find cacti in your living room, which will bring a touch of originality to your decor. Moreover, this type of plant can be placed in a basket, on the floor or on shelves in the living room.
Decorate a wall with photo frames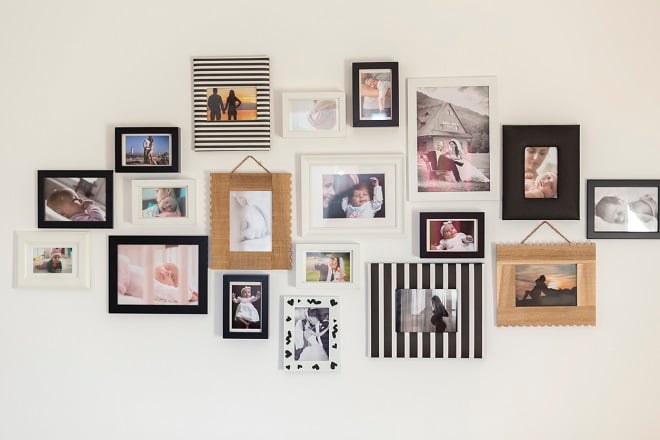 A white living room wall decorated with family photos Credit: Ondroo
In terms of interior decoration living room, simplicity is often the best option. If you haven't thought of it yet, why not simply decorate a section of the wall with framed photos? You can tell your story by putting them from left to right without lining them up completely. As a result, you get an aesthetic wall decoration that will enhance the room and the dining room if it is adjacent. For photos, the choice depends on your wants and needs. You can even choose posters or collages to change the effects.
Install an indirect light wall fixture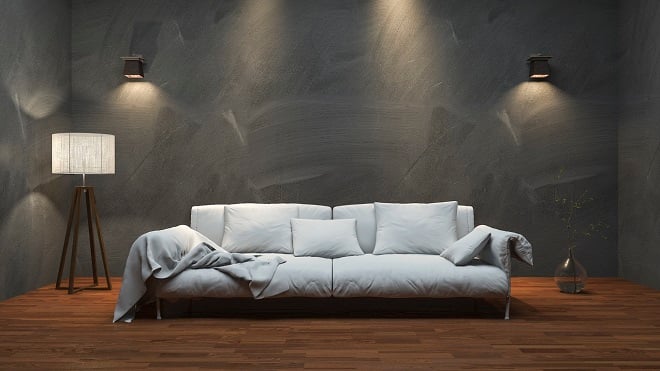 A gray living room wall decorated with two decorative wall lights Credit: dit26978
Framed photos or paintings aren't the only objects that can redecorate a living room. All it takes is a few wall jugs on a section of the wall to create a new atmosphere. Indirect light models create a warm atmosphere in a living room. They are also pleasing to the eye, as the light sources are not directly visible. For an aesthetic result, remember to place your wall lights at the right height. It will also illuminate nearby photos or props. They should be 1.80 m from the ground in a house with a standard ceiling height, i.e. 2.50 m. In a Haussmann apartment where the ceiling is higher, it is possible to install it at 2 m.
Take the Scandinavian bank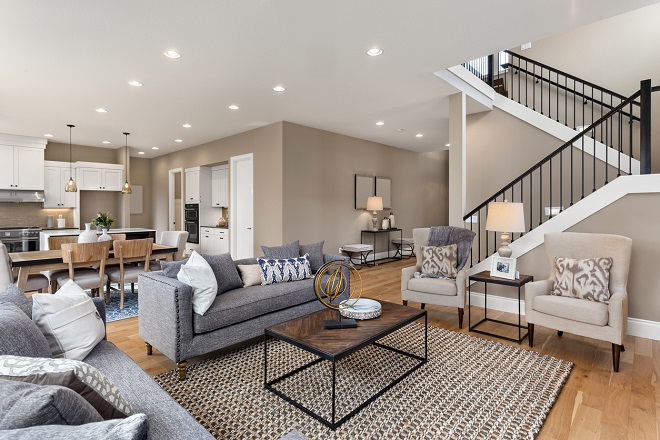 A large living room decorated with two straight Scandinavian sofas and a table supporting a photo frame Credit: hikesterson
You appreciate light interiors and Zen in a house or apartment? Installing a Scandinavian sofa and some furniture in this style can help you achieve your goal of redecorating the living room and creating a comforting environment.
The Scandinavian sofa allows you to have a trendy interior decoration. It also ensures a flowing decoration, ideal for relaxation. In addition, this type of furniture has the particularity of being less expensive. It goes perfectly with armchairs and a coffee table with light wood or more modern legs.
Add an original rug in the living area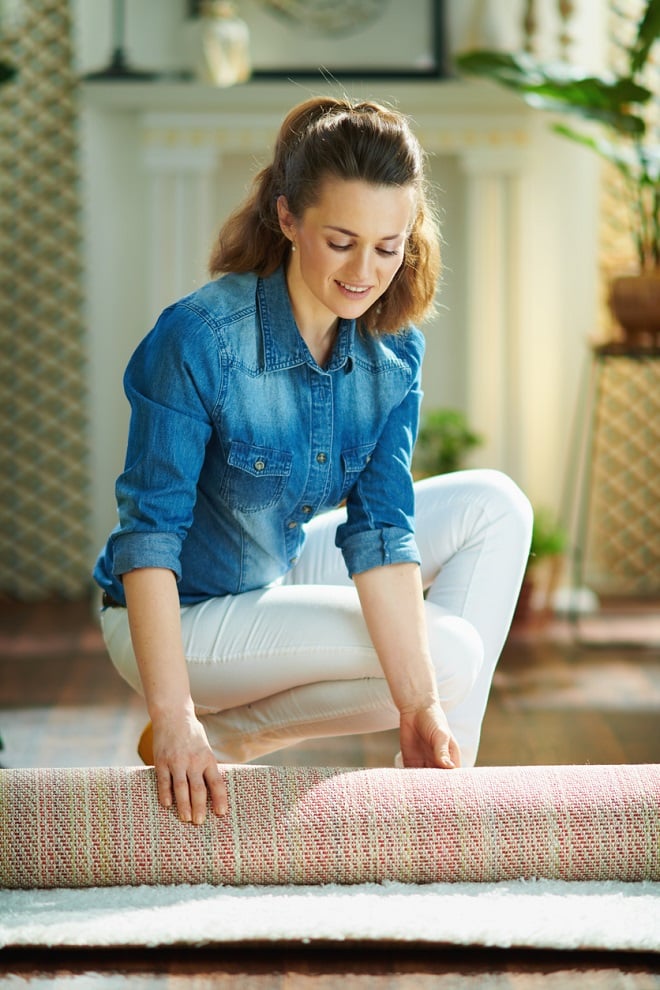 A woman unrolling a white carpet on the floor after remodeling an apartment living room Credit: CentrallTALliance
Just like the sofa and the coffee table, the rug is welcome in a living room. An original carpet, installed in the middle of the room, can be enough to change the general appearance of this room. It immediately catches the eye, even when surrounded by furniture. It also helps to delineate every corner of the room, which can bring a sense of comfort. The installation of an original rug also brings a neat and artistic touch to this living space. In addition, there is a wide choice on the market: Berber, Scandinavian and design. Berber carpets are very trendy if you want to create a stylish and authentic interior.
Home decor inspiration: mix vintage and modern style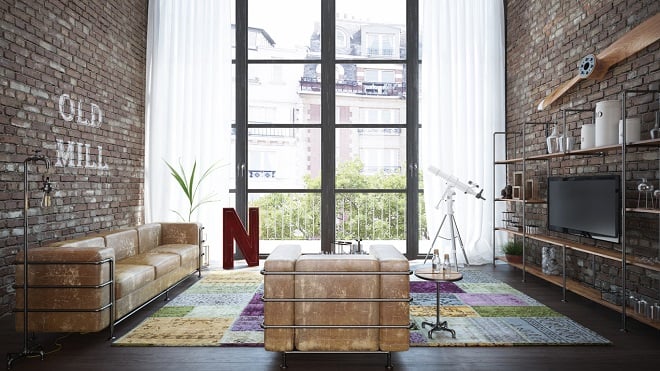 A large modern living room with an old sofa for a cozy atmosphere Credit: Jovy 86
Mixed and mismatched styles are some of the most popular inspirations lately. With good reason, the mix between trends makes it possible to create an original decoration by mixing elements from various eras. For example, you can perfectly combine vintage and modern styles.
This choice of combination allows you to have a surprising and original living room at the same time. Your visitors will find vintage furniture in the middle of modern decorative accessories. The rendering is even better if the house is contemporary in style. Conversely, it is also possible to install modern furniture in a rather old living room to create a surprise effect.
Adopt wooden furniture: sofas, chairs, tables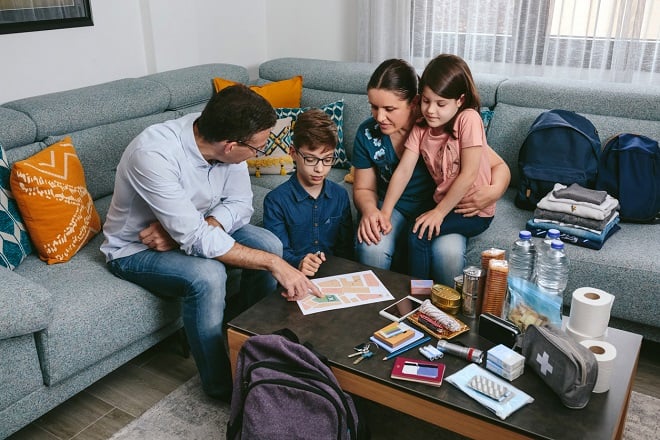 A family choosing wooden furniture to furnish the living room and a bedroom of their apartment Credit: doble-d
Do you want to change the style of decoration of your living room? Choose wooden furniture to replace old metal or plastic furniture. Even if wooden furniture is often considered too classic, it remains excellent options for furnishing a living room. the wood is a noble material that enables the production of elegant and designer furniture. It is also very resistant, which ensures that it has durable and aesthetic elements of decoration for your stay.